Chicago Personal Injury Attorneys
Law Offices of Parente & Norem, P.C.
The Law Offices of Parente & Norem, P.C. is a civil litigation and trial firm concentrating in personal injury, construction site injuries and wrongful death claims resulting from auto accidents and transportation negligence, medical negligence, defective products, railroad injuries, FELA, premises accidents, work-related occurrences, trucking accidents, ride share injuries, and asbestos exposure serving the Greater Chicago area.
Real Reviews – Real Clients
This law firm has been the best!! My lawyer, Izabela, was the best! I was out of work for almost two years and Izabela ensured that I received my earnings. There were times that I couldn't hear her voice but email became our best friend. I received a response within 24 hours or less. She was my personal pitbull. Fighting on my behalf to ensure my financial needs were met, my health concerns, and my overall mental health concerns. I would not have remained sane without her. Love My Pitbull—Izabela !!
If you are injured these are the guys you want. Matt has excellent communication and expertise . He will guide you every step of the way. Thanks Matt.
Chris Norem represented and won our case in court. He is an amazing lawyer who had always gone above and beyond for us. We had put our trust in Chris and had complete confidence in his knowledge and skills. In return, he had attained justice for our family and a settlement of more than we ever hoped for. We would 100% recommend this law firm.
During my workman's comp case I contacted Matt Coleman. He ensured me everything will be okay. During the process he was always available and always took the time to explain to me what was going on. Without his help I wouldn't have gotten the settlement I did. Even as of today Matt still calls and check up on me. I would highly recommended him and his firm.
I was injured in an accident and had no idea what to do! With Chris and Joes guidance I received the best care and possible outcome I could ever hope for! I've already recommend them to a close friend. They by far surpassed every expectation I ever had. Thank you guys.
Absolutely Amazing! Joseph Parente and his firm, work together in achieving the best case scenario for you "a true work of art well done" Thank You
The personal injury lawyers at Parente & Norem, P.C. are dedicated solely to helping injured people and their families. They have recovered over $375 million dollars on behalf of their clients to compensate for physical, financial, and emotional losses. Our firm philosophy is simple. If the offer is not fair to our client we try the case.
Our personal injury attorneys believe in personalized attention to our clients' needs and make every effort possible to communicate on a regular basis with all of our clients regarding their cases. To achieve this, we intentionally keep our partner caseloads fairly low. Parente & Norem is not a "referral house," and if your file is accepted, we will be the personal injury lawyers handling the case completely through to its resolution, including trial and appeal if necessary.
Parente & Norem's lawyers have extensive litigation and trial experience in handling all types of personal injury and wrongful death claims. They make every effort to maximize each client's recovery through the appropriate use of medical testimony, medical experts, economic experts, vocational rehabilitation experts, safety experts, human factor experts, and the effective use of various demonstrative exhibits, drawings, models, computer technology and videos.
At Parente & Norem, our personal injury lawyers have a significant network of experts and investigators and we will spare no expense in the development of a case.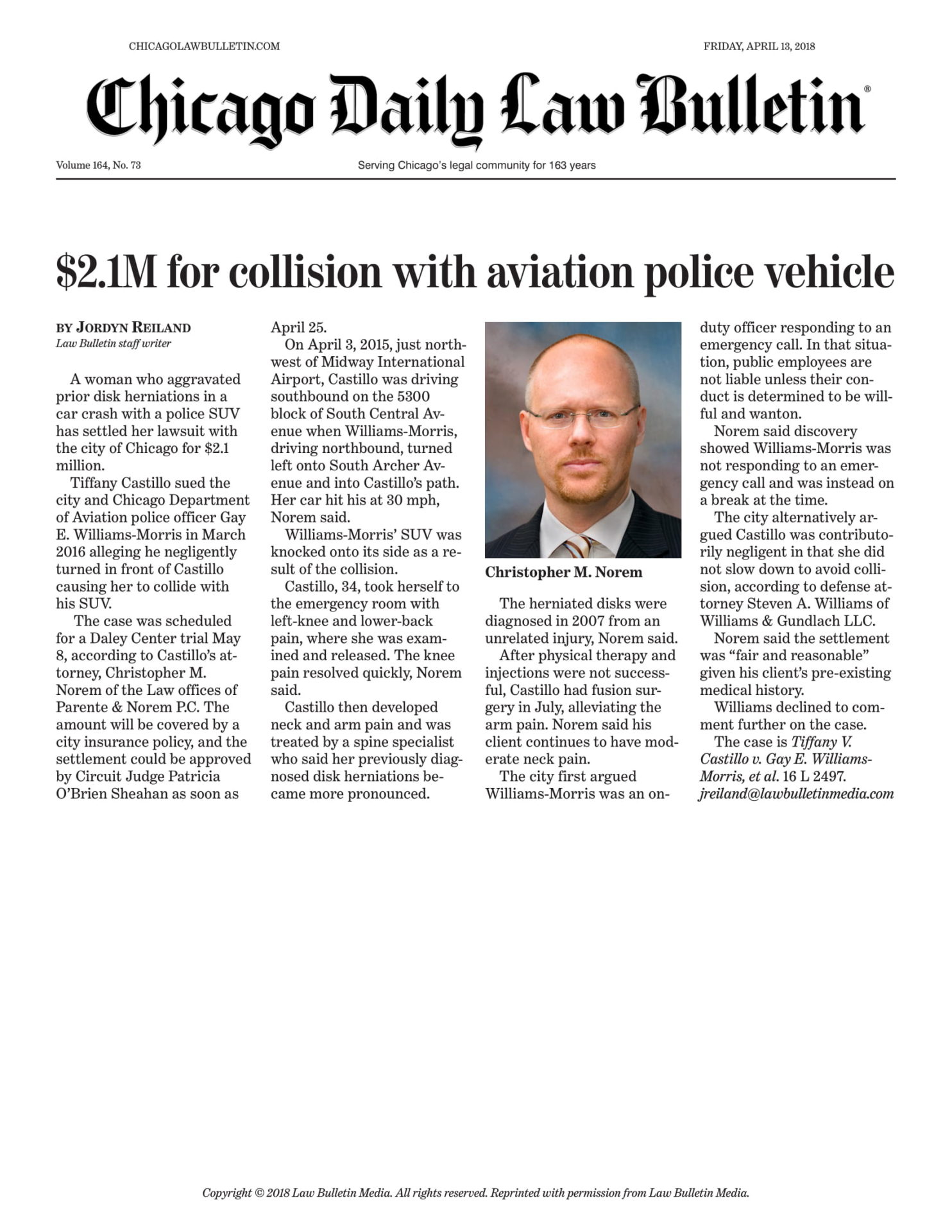 Have you suffered a personal injury? Call our personal injury attorneys now!
Wrongful Death for 54 year old Canadian truck driver.  Parties entered a $4M – $15M high/low agreement meaning our client's widow and daughters received $15M guaranteed.
Case settled right before a $12.95 Million Jury Verdict was awarded for a 17 year-old female who was severely burned.
33 year-old pregnant home maker.
Total amount recovered for our clients.
Our Chicago Personal Injury Attorneys
Our Chicago-based personal injury lawyers have won hundreds of millions for the victims of personal injury and wrongful death. Personal injury and wrongful death do more than just cause physical harm. Victims and their families are often financially devastated as a result of a personal injury or wrongful death. Substantial medical bills may need to be paid on behalf of the victim. If the victim of the personal injury was a financial contributor to the household, the family may be in danger of losing their home or insurance benefits.
Our Personal Injury Attorneys Service the Greater Chicago Area 
Parente & Norem P.C. personal injury attorneys are dedicated to providing you with competent, thorough, and effective legal representation. Our personal injury
attorneys have the necessary experience, knowledge, and talent to recover satisfactory personal injury and wrongful death case results.
If you or a loved one has suffered from a personal injury or wrongful death, our attorneys can discuss your litigation options with you. If your injuries are due to medical negligence, an auto accident, a defective product, a workplace accident, exposure to asbestos, a mesothelioma diagnosis, a slip and fall on another's property, or another reason, you may be entitled to monetary compensation under the law. Our personal injury attorneys can help you evaluate your case and determine your rights to compensation.
If you have been injured by another's actions or inaction, please contact our personal injury attorneys to discuss your case.
What is a personal injury?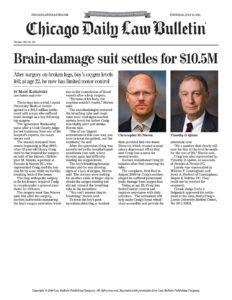 The term "personal injury" is typically defined as an injury to one's mind, body, or emotions. In other words, it's an injury to the person, as opposed to an injury to property. Personal injury law seeks to compensate the victims of personal injury and punish the offenders through monetary awards. These monetary awards are known as compensatory and punitive damages. Our personal injury attorneys concentrate in personal injury law and winning compensation for victims. The Law Offices of Parente & Norem, P.C. has won hundreds of millions of dollars for their clients.
Each state has different laws regarding personal injury lawsuits, and each court has different rules for filing claims. It is very important to choose an attorney with knowledge of the various rules and courts. Our firm has significant personal injury litigation experience and are very familiar with the different court rules and systems.
There are many types of personal injury lawsuits, including car accidents, medical malpractice, wrongful death, product liability, mesothelioma diagnosis, asbestos exposure cases, and slip and fall litigation. Our experienced attorneys can determine which type of lawsuit fits the facts of your case.
Who can file a personal injury lawsuit?
Once you retain an attorney, they will file the lawsuit on behalf of someone, usually the victim of personal injury. If the victim is deceased or mentally incompetent, the lawsuit